Daytona State College is an AAUW College/University member in partnership with the Daytona, Flagler and New Smyrna branches.  AAUW membership benefits faculty, staff and students.
 Daytona State College has been an AAUW member since 2014.
           Dr. Alycia Ehlert from DSC is the institutional contact for membership with AAUW.                                 The campus representative for AAUW Flagler is Dr. Nancy Duke-Birkhead.                                 Sharon Danforth, assisted by Lorrie Blue-Angle, is the AAUW Flagler Liaison to DSC.             
---
STEM Scholar of the Year Scholarship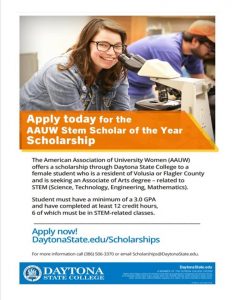 A $750 scholarship is awarded annually to a female Daytona State College student who is majoring in a STEM field.  This is a joint award funded by the Flagler, Daytona Beach and New Smyrna Beach branches, with a $250 contribution from each branch.
              2021 STEM Scholar – Makayla Parsons
Read about Makayla here.
Ask your STEM instructors about this scholarship!  
2020 – Florence Small (Awarded Spring 2020)
2019 – Karelyn Figuerus Rodriguez
2017 – Kristina Martin
2016 – Morgan Walker
2015 – Mina El Karmadi
2014 – Mina El Karmadi
~~~~~~~~~~~~~~~~~~~~~~~~~~~~~~~~~~~~~~~~~~~~~~~~~~~~

American Association of University Women (AAUW) – Flagler County Branch Scholarship    The intent of this scholarship is to benefit a student who is continuing to pursue higher educational goals through undergraduate and baccalaureate programs.  
One (1) annual scholarship, to be awarded every fall semester, in the amount of $1,200

Scholarship recipient may be new or continuing

Scholarship recipient must be enrolled for at least 6 credit hours in the semester for which the scholarship is used

Scholarship recipient must have a minimum GPA of 3.0

Scholarship recipient must have been a Flagler County resident for at least one year

Preference is given to the following:

Student who intends to complete a bachelor's degree

Female

U.S. citizen
Application Window is now open
https://www.daytonastate.edu/scholarships/
2019 – Brianna Flaschner         $1,200
2015 – Crystal Mills      $1,200
~~~~~~~~~~~~~~~~~~~~~~~~~~~~~~~~~~~~~~~~~~~~~~~~~~~~

National Conference for College Women Student Leaders
NCCWSL is held at the University of Maryland, College Park every summer.  AAUW Flagler Branch endeavors to send one woman from the Flagler Campus of Daytona State College to this premier leadership conference each year.
Past NCCWSL Recipients 
2020 – Lisa Howell – Conference cancelled due to coronavirus pandemic
2019 – Olivia Norman
2018 – No student applications received
2017 – Larisa Kupinszky
2016 – Jaynie Krasowski
2015 – Ashley Fallon
2014 – Carrie Hartnett
2013 – Kimble Medley
~~~~~~~~~~~~~~~~~~~~~~~~~~~~~~~~~~~~~~~~~~~~~~~~~~~~
AAUW Flager / DSC Activities
October 16, 2020 – Women in Politics Panel Discussion – cancelled due to coronavirus pandemic
November 8, 2019 – Celebration of Women's Vote Centennial – AAUW Flagler Branch partnered with DSC and Heritage crossroads to present Iron Jawed Angels,  the historical drama about the Women's Suffrage Movement.  Prior to the film, AAUW members examined exhibit boards created by Daytona State College History Professor Dr. Nancy Duke's students featuring U.S. Women's History from the beginning to today.
Spring 2019 – Student Debt Survivor Program – Lorrie Blue-Angle, DSC Liaison, worked with History Professor Dr. Nancy Duke and Financial Advisor, Mr. Jamie Woyton to present a program on campus about financial awareness and surviving student debt on March 20th.
Fall 2018 – Book Club – A joint Book Club was held with Daytona State College.  The book, selected by the students, was The Handmaid's Tale, an award winning novel by Canadian author Margaret Atwood. The novel explores a broad range of issues relating to power, gender, and religious politics, with relevance to our lives today.  Copies of the book were provided free at the first meeting.  The book club was held on Wednesdays at 1:00 pm and ran for eight weeks, beginning October 17th.  Snacks were provided and some episodes of the 2017 TV series were shown.  Sponsored by AAUW Flagler and the Daytona State College History Club.
Fall 2017 – Spring 2018 – Oral History Project – Students from Dr. Nancy Duke's American History classes at the DSC Palm Coast Campus interviewed the more senior members of AAUW Flagler for a class project.   Interview questions focused on the subject's childhood, education, professional life, and how the rights of women have changed over the years.
Fall 2017 – Spring 2018 – Center for Women and Men – Branch members donated items at monthly meetings for the Clothes Closet and Food Pantry for students in need on the Palm Coast Campus.
March 23, 2017 – Panel Discussion "Successful Women Sharing Career Strategies" – Lorrie Blue-Angle, AAUW Flagler's Daytona State College liaison, with the help of branch member Kathy Burns, arranged a panel discussion at the Flagler/Palm Coast Campus.  Panelists included Faith Alkhatib – Flagler County Engineer, Andrea Barr – Technology Business owner who formerly worked for APPLE, Milissa Holland – Mayor of Palm Coast, Carmenda Laymon – Social Media Business owner and Kaiti Lenhart – Supervisor of Elections for Flagler County.   These local women shared with students strategies that they have employed that have lead them to success in their fields. The discussion was moderated by Dr. Nancy Duke, Associate Professor at Daytona State College.
April 19 and 21, 2016 – Free Women's Self-Defense Classes – AAUW Flagler  sponsored self-defense classes at the Daytona State College Flagler/Palm Coast Campus in Building 3, Room 115-116 from 3:30 -5:30 pm.  The program was presented by Sgt. Mike Lutz of the Flagler County Sheriff's Off, Community Outreach Division.  This activity was comprised of 2 two hour classes (total of 4 hours.)  Attendants received safety information as well as hands-on defensive training, culminating in a physical test against the instructor with a padded suit in the second class.  Participants were required to attend the first class in order to participate in the second class.  Females of all ages were welcome – female students as well as friends and family members of students.
October 22, 2015 – Fashion Show – Branch members, under the direction of DSC Liaison/Membership Chair Lorrie Blue-Angle presented a "Dress to Impress" event at the Daytona State College-Flagler/Palm Coast campus at 2:00 pm.  With a collection of "gently used" clothing, dress shoes, purses, scarves and costume jewelry donated from branch members and local second hand shops, college students learned how to dress appropriately for job interviews and work while staying within a budget.
January 20, 2015 – Nutrition Workshop – The Flagler Branch of the American Association of University Women (AAUW) presented a program on "Nutrition – Eating on the Run" for students at the Daytona State College Flagler Campus.  Sally Smeaton, a registered dietician and member of AAUW, gave the presentation – healthy snacks were provided by the Flagler Branch of AAUW.