~~~~~~~~~~~~~~~~~~~~~~~~~~~~~~~~~~~~~~~~~~~~~~~~
~~~~~~~~~~~~~~~~~~~~~~~~~~~~~~~~~~~~~~~~~~~~~~~~
                 
Daytona State College is an AAUW College/University member in partnership with Daytona, Flagler and New Smyrna branches.  Membership in AAUW benefits faculty, staff & students.
~~~~~~~~~~~~~~~~~~~~~~~~~~~~~
AAUW Flagler has just awarded a $1200 Scholarship to Flagler/Palm Coast Campus student Brianna Flaschner through the Daytona State Foundation!
~~~~~~~~~~~~~~~~~~~~~~~~~~~~~~ 
National Conference for College Women                                                                                      Student Leaders                                                                                         Stem Scholarship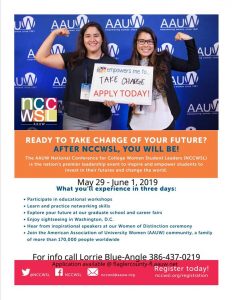 The Flagler Branch endeavors to send one young     woman from the Flagler Campus of Daytona State    College to this premier leadership conference each      year.   Held at the University of Maryland, College Park,  this year's conference takes place May 29–June 1st.
2019 Recipient – Olivia Norman                  2019 STEM Scholar                                                                   Karelyn Figuerus Rodriguez
~~~~~~~~~~~~~~~~~~~~~~~
AAUW Flagler featured in the DSC Magazine
Click on College/University Partnership under the Activities tab to learn more.
~~~~~~~~~~~~~~~~~~~~~~~~~~~~~~~~~~~~~~~~~~~~~~~~~~~
Authors' Luncheon Fundraiser
January 17, 2019 @ 11:00 am at Palm Coast Elks Lodge
~~~~~~~~~~~~~~~~~~~~~~~~~~~~~~~~~~~~~~~~~~~~~~~~~~~~
January "Just for Fun" Qigong Class
January 22, 2019 @ 11:00 am
~~~~~~~~~~~~~~~~~~~~~~~~~~~~~~~~~~~~~~~~~~~~~~~~~~~
February "Just for Fun" Theater Show
Sunday, February 3, 2019 @ 2:00
Flagler Playhouse, 301 E. Moody Blvd. in Bunnell.  Ticket price $25.
A musical review featuring songs and sketches performed by women of different ages and types.  A wide variety of situations with insight, empathy, and self-deprecating humor combine to demonstrate how these women face life's trials and tribulations.
Contact Theresa by email if you would like to attend FlaglerCounty@aauw.net
~~~~~~~~~~~~~~~~~~~~~~~~~~~~~~~~~~~~~~~~~~~~~~~~~~~~
                                     Next Meeting                                     
February 9, 2019 @ 
11:00 AM
Pine Lakes Golf Club
400 Pine Lakes Parkway Palm Coast, FL
Celebrating Black History Month
Katherine McCladdie will present an overview of the historic, "The United Order of the Tents."  Founded in 1867 by two former slaves, Annetta M. Lane and Harriett R. Taylor, the organization, predominately operated by black women, spans from the District of Columbia to Georgia and diligently works to provide care and shelter to those who cannot care for themselves.
Bethune-Cookman University, founded 114 years ago, opened as the Daytona Literary and Industrial Training School for African-American girls for a $1.50 tuition.  Today, it is a university with nearly 4, 000 students, alumni topping 15,000 and a legacy that continues to impact the community.  Mrs. Daisy Grimes once walked the campus grounds as a student; today, as the Director of Legacy & University Protocol, she strives to preserve the custom, heritage, devotion, and perseverance embodied by its founder.  Last year, then Governor Rick Scott signed legislation which paved the way for Dr. Mary McLeod Bethune to take her place in National Statuary Hall, in our nation's capital, and become the first African-American woman so honored by a state.
*******************************
 Stay for lunch and catch up with your AAUW friends.  This event is open to the public.  Lunch will be available for $17.00.  There are three menu options:  1) Grilled Cheese Sandwich on Whole Wheat, mozzarella cheese, tomato and balsamic mayo with side salad.  2)  Hamburger on bun, lettuce, tomato, cheese with coleslaw.  3)  Asian Chicken Salad  (mandarin oranges, teriyaki chicken, rice noodles with sesame dressing).   Dessert will be Red Velvet Cupcakes with cream cheese icing.  Meal includes  coffee, tea and iced tea.
   *Remember your donation of shoes, socks and underwear for the Flagler County Schools' STUFF BUS and individually wrapped snacks for the DSC student food pantry.
                                          Reservation deadline is Tuesday, February 5th.                                                           Contact Sally Smeaton shsmeaton@gmail.com with your menu selection.
~~~~~~~~~~~~~~~~~~~~~~~~~~~~~~~~~~~~~~~~~~~~~~~~~~~~
Coming Up – Lobby Days & Leadership Conference
~~~~~~~~~~~~~~~~~~~~~~~~~~~~~~~~~~~~~~~~~~~~~~~~~~~~
Who Were the First Women to Register to Vote in Flagler County?
Dear Women of Flagler Invitation
AAUW FLAGLER INVITATION TO THE DESCENDANTS OF 'THE DEAR WOMEN OF FLAGLER'
Palm Coast, FL – American Association of University Women (AAUW) Flagler wishes to extend an invitation to the descendants of the women of Flagler County who were recognized and listed, by the Flagler Tribune, on October 21, 1920, as "Qualified Voters" for the November 2, 1920 General Election. We will hold an organizational meeting on Friday, March 15, 2019, at 1:00 pm, in Room 3 B, located on the 3rd floor of the Government Services Building in Bunnell.
In anticipation of the 100th Anniversary of the 19th Amendment to the U.S. Constitution, we are on a mission to identify, if possible, the first women to have registered to vote in Flagler County. We have unlocked quite a bit of this hidden history in Flagler; but, we know history and memories are passed down through the generations. We want to hear the stories of the grandmothers and great-grandmothers who voted on Nov. 2, 1920, as told by their families. Alice Scott Abbott proudly worked with the National Woman's Suffrage. She delivered the first lecture in the State of Florida during the State Convention of 1893, held in St. Augustine. She fervently implored the 'Dear Women of Flagler' to register "in time so no one can challenge their vote in the coming election" with her letter of October 7, 1920, published by the Flagler Tribune. Sadly, she passed away, twelve days before November's historic election.
For additional information, please contact Kim Medley, Publicity/Social Media, at 386 864 5162 or by e-mail at FlaglerCounty@aauw.net.
~~~~~~~~~~~~~~~~~~~~~~~~~~~~~~~~~~~~~~~~~~~~~~~~~~~~

AAUW FL Tech Trek camp is a week-long STEM camp for rising eighth grade girls. Girls live on campus in residence halls, attend core classes, hands on workshops, field trips and a Professional Women's Night. Potential campers must be in the seventh grade, nominated by their teacher, complete the application process and interview before selection is made by an AAUW state committee.  This will be the seventh year that our branch has sent students to Tech Trek.  FL Tech Trek will have two camps in 2019.  One will be held at Stetson University in Deland June 9 – 15 and the other at Florida Atlantic University in Jupiter June 16 – 22.                            Each camp will accept 48 girls.
14 Flagler County students have been nominated by their teachers for the 2019 camps.
          We are currently in the student application step of the process – Deadline January 15   
                         

 2019
Scholarships and Arts Grants
                      
 

Take Stock in Children

–  $1,000 
A non-profit organization in Florida that identifies at risk low income students and provides support to help them break the cycle of poverty through education.  Local funds raised are matched by the state.  The program is administered by the Flagler County Education Foundation.
High School Scholarships
      2 scholarships of $1000 will be awarded to graduating high school seniors. Applications will be distributed through the Flagler County Education Foundation.  Check with High School Guidance Offices.
 Continuing Education Scholarship   
     One continuing education scholarship of $1,200 was awarded to a Daytona State College student from Flagler County through the Daytona State Foundation.
Arts Grant
The Flagler County Branch of the American Association of University Women is pleased to be able to offer grants to local middle and high school girls in grades 7 – 11 pursuing the study of the creative arts.  The maximum grant per application is $500.00.  Application is available below and through the Flagler County Education Foundation in middle and high school guidance offices.
Application Deadline – February 15, 2019
2018-2019 AAUW Arts Grant Application
~~~~~~~~~~~~~~~~~~~~~~~~~~~~~~~~~~~~~~~~~~~~~~~~~~~~~~~~~~~~~~~~~~~~~~~~~~~~~
American Association of University Women (AAUW) is a nationwide network of more than 170,000 members and supporters, 1,000 branches, and 800 college/university institution partners.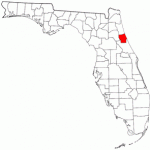 Located in Florida's northeast coast, the Flagler County Branch draws members from throughout Flagler County and serves the communities of Palm Coast, Flagler Beach and Bunnell.
For 130 years, AAUW members have examined and taken positions on the fundamental issues of the day — educational, social, economic, and political. Our commitment to our mission is reflected in all aspects of our work.
AAUW's Mission
AAUW advances equity for women and girls through advocacy, education, philanthropy, and research.
AAUW's Value Promise
By joining AAUW, you belong to a community that breaks through educational and economic barriers so that all women and girls have a fair chance.
The words "it's a girl!" radiate excitement about a world of possibilities ahead — but as we see in this video, a little girl's dreams are often limited by the words "if" and "only."
AAUW works to change the climate for women and girls!
~~~~~~~~~~~~~~~~~~~~~~~~~~~~~~~~~~~~~~~~~~~~~~~~~~~~
Apply for AAUW's Fellowships and Grants Today!
2014-2015 AAUW International Fellow Petreena Campbell pursued her Ph.D. in Pharmacology.
AAUW has a long and distinguished history of advancing educational and professional opportunities for women in the United States and around the globe. Follow in the footsteps of award-winning authors, scientists, scholars, and change makers. Apply today!