Questions? E-mail us @ flaglercounty@aauw.net                                           ~~~~~~~~~~~~~~~~~~~~~~~~~~~~~~~~~~~~
National Conference for College Women Student Leaders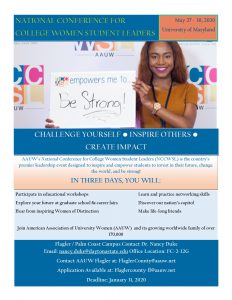 AAUW Flagler Branch endeavors to send one young woman from the Flagler Campus of Daytona State College to this premier leadership conference each year.   Held at the University of Maryland, College Park, the 2020 conference will take place May 27–May 30.
                           Apply Today!                                           Application deadline January 31, 2020
The 2019 NCCWSL attendee was Olivia Norman.
~~~~~~~~~~~~~~~~~~~~~~~~~~~~~~~~~~~~~
JUST FOR FUN 
Saturday, January 18, 2020 @ 10:30 am.

Join us at the Museum of Arts and Sciences in Daytona Beach for Florida's History Con.  We will be attending the 10:30 am presentation about Florida's Female Pioneers by Dr. Peggy Macdonald, Adjunct Professor of History at Stetson University.  Learn about the women who helped to shape the Sunshine State – Dr. Ester Hill Hawkes, Harriet Beecher Stowe, Dr. Mary McLeod Bethune, Betty Mae Tiger Jumper, May Mann Jennings and Florida's Three Marjorie(y)s – Marjorie Kinnan Rawlings, Marjorie Harris Carr and Marjory Stoneman Douglas.
Meet at the Staples parking lot in Palm Coast at 9:30 am to carpool.
Contact Susie Baird for further information.
~~~~~~~~~~~~~~~~~~~~~~~~~~~~~~~~~~
Lobby Days 
January 21 – 22, 2020
Join us!  AAUW Florida for Lobby Days Florida State Capitol Building
Visit and advocate with your own legislators and team up with others.
For more information: https://aauw-fl.aauw.net/lobby-days/
~~~~~~~~~~~~~~~~~~~~~~~~~~~~~~~
January 22, 2020 @ 10:00 am
Classrooms to Careers School Tour
Join us at Matanzas High School for a tour of Flagler County Schools' Innovative Flagship Programs – Finance & Corp Services, Culinary, Biotech, Construction and Law & Justice.  These programs are designed to engage students' interests, develop creative thinking, collaboration and skills in science, technology, engineering & math.
We will carpool from Staples Plaza at 9:30 am.
If you would like to participate contact Patti Paukovich.
~~~~~~~~~~~~~~~~~~~~~~~~~~~~~~
                                   Next Meeting                                   
February 8, 2020 @
11:00 AM
Pine Lakes Golf Club
400 Pine Lakes Parkway Palm Coast, FL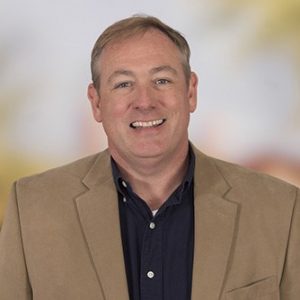 Join the Flagler Branch of American Association of University Women (AAUW) for a discerning and stimulating discussion about "Local Campaigns, National Relevance:  The Florida Civil Rights Movement", led by Dr. Michael Butler, Kenan Distinguished Professor of History, Flagler College.  Author of Victory After the Fall:  The Memories of Civil Rights Activists H. K. Matthews and Beyond Integration:  The Black Freedom Struggle in Escambia County, Florida, 1960-1980, along with a multitude of articles for academic and historical journals, Dr. Butler brings 20th Century Southern History to life in an engaging and informative manner.
***************************************
Stay for lunch and catch up with your AAUW friends.  This event is open to the public.  Lunch will be available for $18.00.  There will be 3 menu options:  1)  Margarita Pizza on Flatbread with Small Salad  2) Turkey Rachael with Coleslaw, Swiss Cheese, 1000 Island Dressing on the side with Dusted Chips 3) 1/2 Chicken Cheese Steak, Mushrooms, Onions, Peppers, Lemon Lime Cilantro on Hoagie with Dusted Chips.  Meal includes dessert, coffee, tea and iced tea.
   *Remember your donation of sneakers and socks for the Flagler County Schools' STUFF BUS*
                                          Reservation deadline is Tuesday, February 4th.                                                           Contact Sally Smeaton shsmeaton@gmail.com with your menu selection.
~~~~~~~~~~~~~~~~~~~~~~~~~~~~~~~~~~~~~~~~~~~
AAUW FL 2020 State Convention
April 18 – 20, 2020
~~~~~~~~~~~~~~~~~~~~~~~~~~~~~~~~~~~~~~~
Daytona State College is an AAUW College/University member in partnership with Daytona, Flagler and New Smyrna branches.  Membership in AAUW benefits faculty, staff & students.
                                                          STEM Scholar of the Year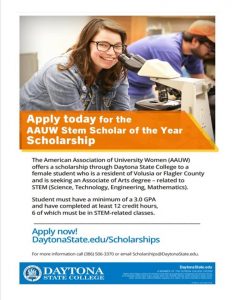 Did you know AAUW Flagler County Branch offers a STEM Scholarship through our partnership with Daytona State College and in collaboration with Daytona Beach & New Smyrna Branches?
2020 STEM Scholar – Florence Small
****************
The American Association of University Women (AAUW) – Flagler County Branch Scholarship is awarded annually to a Flagler/Palm Coast Campus student through the Daytona State College Foundation.
Application Window is now open
https://www.daytonastate.edu/scholarships/
2019 Scholarship awardee – Brianna Flaschner
~~~~~~~~~~~~~~~~~~~~~~~~~~~~~~~~

AAUW FL Tech Trek camp is a week-long STEM camp for rising eighth grade girls. Girls live on campus in residence halls, attend core classes, hands on workshops, field trips and a Professional Women's Night. Potential campers must be in the seventh grade, nominated by their teacher, complete the application process and interview before selection is made by an AAUW state committee.  This will be the eighth year that our branch will send students to Tech Trek.  FL Tech Trek will again have two camps in 2020 with each camp accepting 48 students.
The first one will be held in Deland at Stetson University June 14 – June 21.  The second camp will be held at Florida Atlantic University in Jupiter from June 21 to June 27.   The girls who apply will be able to choose which of the camps they prefer to attend.  The camp formats will be similar but the core courses and the workshops will have some different offerings and the field trips will probably visit different STEM locations.
     Congratulations to the six Flagler County students selected to attend Tech Trek 2019!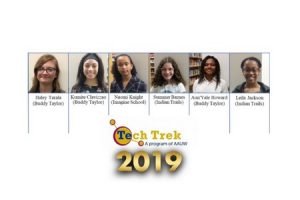 ~~~~~~~~~~~~~~~~~~~~~~~~~~~~~~~~
Support Tech Trek by Shopping at Amazon
Go to smile.amazon.com
Log in with your user name for your Amazon account
Type in AAUW Florida Supporting Foundation, Inc., on the line for choosing your charitable organization or select the foundation from the list of registered organizations
Start shopping – The next time you shop, log in at smile.amazon.com and the AAUW foundation will show as your charity of choice
~~~~~~~~~~~~~~~~~~~~~~~~~~~~~~~~~~~~~~~~~~~~~~~~~~~~
                         

2020
Scholarships and Arts Grants
                      
 

Take Stock in Children

–  $1,000 
AAUW Flagler awarded $1,000 this year to Take Stock in Children – a non-profit organization in Florida that identifies at risk low income students & provides support to help them break the cycle of poverty through education.  Local funds raised are matched by the state.  The program is administered by the Flagler County Education Foundation.
High School Scholarships
             AAUW Flagler has committed to awarding a minimum of two $1,000 Scholarships to high school seniors graduating in 2020.
Applications are available at high school Guidance Offices.
2 scholarships of $2000 were awarded last year to graduating high school seniors – Julia Hok and Hannah Frassrand, both from Flagler Palm Coast High School.  Each  mastered courses through the school's International Baccalaureate program.
Ms. Frassrand was a member of the National Honor Society and Mu Alpha Theta, the mathematical honor society. From Algebra II to Statistics, she received awards from numerous competitions. Further, Ms. Frassrand was a member of the Air Force JROTC program and  received the Veteran of Foreign War JROTC Medal, the Distinguished AFJROTC Cadet Academic Ace Award and the Top Performer Recognition. Through her scholastic achievements, she was  named as Junior Marshall, an honor reserved for the top 5 students with the highest GPAs.
Ms. Hok excelled with Future Problem Solvers and was recognized at the state and national levels for her achievements with Community Problems Solvers (CmPS) competitions. She was  honored through QuestBridge for excellence in STEM and as a National College Match Finalist. Ms. Hok's goals include mechanical engineering and creating three-dimensional art.
 Continuing Education Scholarship   
The American Association of University Women (AAUW) – Flagler County Branch Scholarship is awarded annually to a Daytona State College student from Flagler County through the Daytona State Foundation.
Apply today through the link below
The 2019 scholarship was awarded to Brianna Flaschner
Arts Grants
The Flagler County Branch of the American Association of University Women is pleased to be able to offer grants to local middle and high school girls in grades 7 – 11 pursuing the study of the creative arts.
Apply Today!  – 

Application Deadline is March 15, 2020
Two $350 grants were awarded in 2019.  The recipients were:
Naomi Knight – also a recipient of a Tech Trek Scholarship last year, used her $350 grant to attend Elite Animation Academy to focus on visual storytelling and study digital drawing at the Academy's summer workshop.                                                                        Hannah Lopez – a violin student with the Flagler Youth Orchestra (FYO) for 6 years and a member of the Harmony Chamber Orchestra – the most advanced orchestral group within FYO.  She used her $350 grant for private lessons during the summer.
~~~~~~~~~~~~~~~~~~~~~~~~~~~~~~~~~~~~~~~~~~~~~~~~~~~~
 Work Smart 
Benefits of taking the Work Smart Online course:
Improve your negotiation skills – not just for salary but for ALL kinds of negotiations!
Learn about the pay gap and hone your skills as an advocate for pay equity
Raise awareness about AAUW's important work by articulating why negotiation is so important:
AAUW's research on the gender pay gap shows that, one year out of college, women are already paid significantly less than men.
Women who work full time take home 80 cents for every dollar a full-time male worker is paid. And over a lifetime, those lost potential earnings add up.
The average woman will lose between $400,000 to $1 million over her lifetime due to the pay gap.
Women who are retired also negotiation in many aspects of their lives. The same skills will help them as well.
Let's empower women so that they can get what they deserve!
~~~~~~~~~~~~~~~~~~~~~~~~~~~~~~
American Association of University Women (AAUW) is a nationwide network of more than 170,000 members and supporters, 1,000 branches, and 800 college/university institution partners.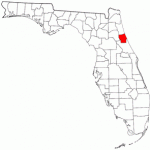 Located in Florida's northeast coast, the Flagler County Branch draws members from throughout Flagler County and serves the communities of Palm Coast, Flagler Beach and Bunnell.
For 130 years, AAUW members have examined and taken positions on the fundamental issues of the day — educational, social, economic, and political. Our commitment to our mission is reflected in all aspects of our work.
AAUW's Mission
AAUW advances equity for women and girls through advocacy, education, philanthropy, and research.
AAUW's Value Promise
By joining AAUW, you belong to a community that breaks through educational and economic barriers so that all women and girls have a fair chance.
The words "it's a girl!" radiate excitement about a world of possibilities ahead — but as we see in this video, a little girl's dreams are often limited by the words "if" and "only."
AAUW works to change the climate for women and girls!
~~~~~~~~~~~~~~~~~~~~~~~~~~~~~~~~~~~~~~~~~~~~~~~~~~~~
 AAUW's Fellowships and Grants
AAUW has a long and distinguished history of advancing educational and professional opportunities for women in the United States and around the globe. Follow in the footsteps of award-winning authors, scientists, scholars, and change makers.