May 23, 2021
A Just for Fun Event ~ E-Bike History Tour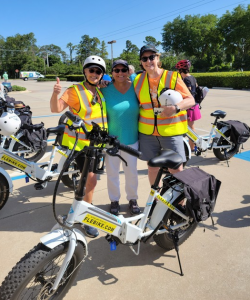 AAUW Flagler members joined the Palm Coast Historical Society's celebration of Preservation Month by participating in an e-bike tour of the "core area" of the city of Palm Coast.  The guided tour was led and sponsored by early Palm Coast resident and local Flebike shop owner Frank Paccilli.

Saturday, May 8, 2021 
Our end of the year meeting was held picnic style, at Flagler County's Bings Landing Park on A1A.  Officers for the coming year were inducted and we learned about the winners of the three scholarships we awarded.  Our members were overjoyed with the opportunity to visit in person.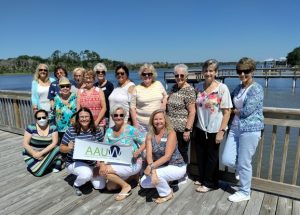 May 1, 2021
Fundraiser at Palm Coast Arts Foundation Creative Bazaar
AAUW Flagler had a booth at the PCAF Creative Bazaar at Town Center to raise funds for AAUW Flagler Branch and Scholarships.   Members and friends donated their crafty and yummy creations for this worthwhile cause.  Proceeds for the day totaled $305.50.
April 27 – 2021 High School Scholarship Awardees
AAUW Flagler participated with the Flagler County Education Foundation during their Drive & Surprise Scholarship Award Ceremony.   Three scholarships were awarded this year, including the first Mary Rose Hoffman AAUW Scholarship.  Read about our scholarship winners here in this article in the Palm Coast Observer.
April 16, 17, 18

 

~

 
AAUW FL 2021 Virtual
 Leadership Conference & Annual Meeting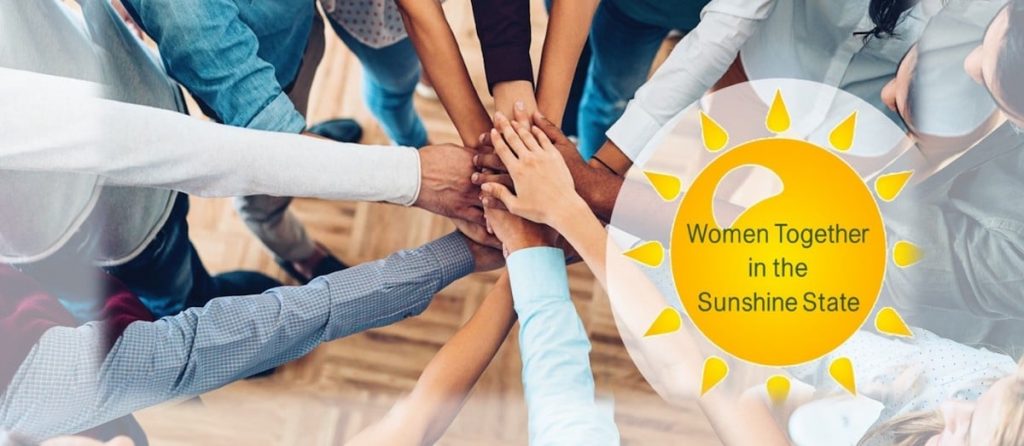 We gathered together virtually to renew acquaintances and our commitment to equity for women at all stages of their lives. 
Saturday, April 10, 2021 – General Meeting
  Flagler County Schools Superintendent, Cathy Mittelstadt, visited with us via Zoom and shared how the schools in our county faced and overcame challenges in the era of Covid-19, and developed many innovative programs unique to each of our schools.
March 24, 2021 – Equal Pay Day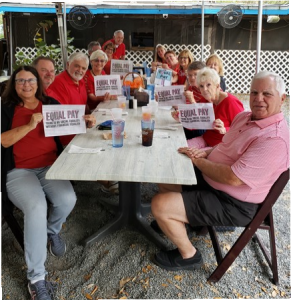 Wearing RED and gathering safely outdoors for an Unhappy Hour at JT's Seafood Shack to call attention to Equal Pay Day – the date that marks how far into the year the average women must work in order to earn what the average man earns in the previous year.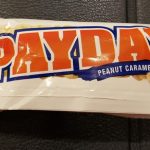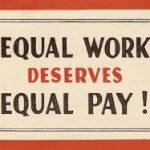 March 13, 2021
Promoting the Florida Women's Voting Rights Museum @ the Flagler Auditorium
Stronger Together – A Salute to Women                                                         A Pat Benatar & Pink Tribute
During intermission, AAUW Flagler members  spoke about a joint project of AAUW Flagler and the Flagler County Historical Society.   The audience learned about the efforts to move the 1916 Seventh Day Adventist Church (attended by Flagler suffragist Alice Scott Abbott and currently located in Espanola) back to Bunnell, next to the historic Holden House, and  transform it into a Florida Women's Voting Rights Museum.  
 Read about our efforts here in the Flagler News Weekly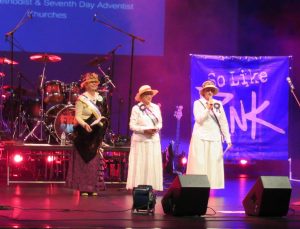 Celebrating Women's History Month @ Our General Meeting
Suffrage, Women & Untold Stories with Kim Medley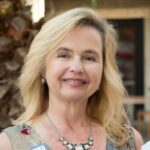 AAUW Flagler's Publicity, Social Media and Women's Vote Centennial Chair shared unusual stories she uncovered while conducting research on women's suffrage for her upcoming book.
March 12, 2021 – Just for Fun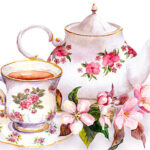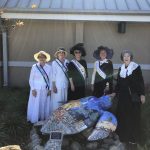 Following the High Tea Soiree at the Palm Coast Community Center, members (dressed in Suffrage attire to promote the Florida Women's Voting Rights Museum) visit with Vincent the Turtle.  Vincent is part of the Turtle Trail, a public community sculpture campaign started in May 2018 by the Palm Coast Arts Foundation.  Sponsored by AAUW Flagler Co-President Patti Paukovich and her husband, "Vincent" was inspired through one of Vincent Willem van Gogh's more than 2,100 artworks, Café Terrace at Night (1888).
March 3, 2021 – Stuffing the Bus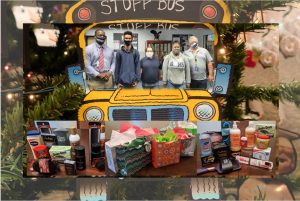 New S.T.U.F.F. Bus Chair Haydee Bernal has been expanding AAUW Flagler's efforts to support this critical program founded by the Flagler County Education Foundation.  Read about Haydee's work in this article in the Flagler News Weekly.
 February 6, 2021 
Joint Meeting with AAUW Flagler & Palm Coast Historical Society 
The Rendition of the Ratification Process & Women's Right to Vote         
Flagler County Judge Totten discussed the ratification of the 19th Amendment and the entrance of women into political office, the legal profession, and judgeships, all post-suffrage.
Kim Medley, AAUW Flagler's Publicity, Social Media and Women's Vote Centennial Chair spoke about the "New Departure" and its influence on women's rights to vote.
January 28, 2021 – We Added Alice!
                   Alice Scott Abbott, Flagler Suffragist, Inducted to the                                         2020 Florida Women's Hall of Fame

In March of 2020, AAUW Flagler's Women's Vote Centennial Committee nominated Alice Scott Abbott for the 2020 Florida Women's Hall of Fame.  On August 13th, the Florida Commission on the Status of Women announced that our nominee had been selected as a top ten finalist from 70 applications.  Watch the announcement here
On November 24th we were informed by Governor Ron DeSantis' office that Alice was one of three women selected for this honor in 2020.  A virtual induction ceremony was held on January 28, 2021.  Watch the ceremony here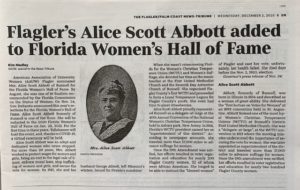 https://www.palmcoastobserver.com/article/alice-scott-abbott-bunnell-suffragist-to-be-inducted-to-florida-womens-hall-of-fame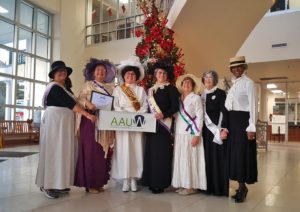 AAUW Flagler County Branch was recognized at the Flagler County Commission meeting on December 14th for adding Alice Scott Abbott to the Florida Women's Hall of Fame. Patty Paukovich, Kim Medley, Terry Smith, Kathy Reichard-Ellavasky, Susie Baird, Linda Russell, Awilda Hamilton. Photo: Ed Siarkowicz
January 9, 2021 – Zoom General Meeting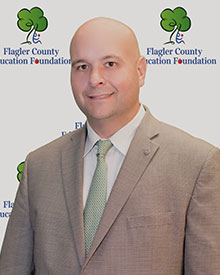 Joe Rizzo, Executive Director of the Flagler County Education Foundation, spoke about the Education Foundation and its                role in Flagler County schools.
December 2020 – Recognizing Our Own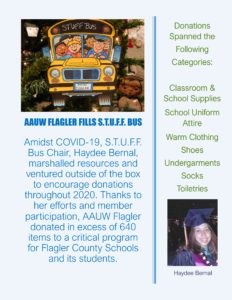 December 2020 – Meet Our Newest Members!
December 5, 2020  – Arts & Crafts Fair Fundraiser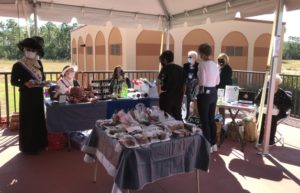 AAUW Flagler participated in the Palm Coast Arts Foundation Creative Bazaar at Town Center to raise funds for the branch and scholarships.  We sold handcrafted items and delicious home made baked goods – all donated by our members.  In addition, we had 100th Women's Vote Anniversary Ornaments for sale and our Suffragists were in attendance.
November 14, 2020 –  Zoom General Meeting
Kim Medley, branch Social Media and Publicity Chair and AAUW FL Women's Vote Centennial Chair, spoke about the Women's Voting Rights Movement in Flagler County and Florida..
November 13, 2020 – Festival of Trees
Flagler Branch takes part in the Flagler County Public Library's annual Festival of Trees event.  Organizations throughout the County are invited to participate by setting up trees decorated to reflect the mission of the organization.  AAUW Flagler's tree celebrates the 100th anniversary of women winning the right to vote.  The tree, named "Alice" after Flagler suffragist Alice Scott Abbott is adorned with photos of the first Flagler County voters and stars representing the states that ratified the 19th Amendment.
November 2020 – Filming a Documentary
Palm Coast student entrepreneur takes on documentary about suffrage. (news-journalonline.com)
November 6, 2020

Members of the Reading Women Book Club gather safely outdoors to discuss The Dutch House by Ann Patchett
Front row:  Theresa Owen, Sally Smeaton, Marty Butler                  Back row:  Barbara Kroeker, Lorrie Blue-Angle, Kathy Burns, Sharon Danforth (Susie Baird not pictured)
In Memory of Mary Rose Hoffman
We sadly announce the passing of branch member Mary Rose Hoffman.  According to her husband Conrad, "Mary Rose took the 11:00 pm A Train to heaven" on Friday, October 23, 2020.  She was an active AAUW member, attending monthly General Meetings, making Raffle Baskets to raise funds for scholarships and showcasing her artist talents with submissions to the AAUW Art Contests.      https://www.lohmanfuneralhomes.com/obituary/mary-hoffman
October 13 & 20, 2020
Annual Scholarship Fundraiser Fashion Show
A night of Fun and Fashion at Chez Jacqueline – with limited attendance, masks and social distancing to prevent spread of the coronavirus.
In Memory
of Janet Dance Spurlock
With sadness we announce the passing of former branch member Janet Dance.  She was a Past President, serving in the position from 1996 – 1998.  https://www.dignitymemorial.com/obituaries/flagler-beach-fl/janet-spurlock-9356294
August 2020 
AAUW Flagler Celebrates 100 Years of Women Voting
---
April 28, 2020 – Alice Scott Abbott on Votes for Women Trail
Our branch's submission of the gravesite location of local suffragist Alice Scott Abbott was accepted for inclusion to the Votes for Women Trail, a project of the National Collaborative for Women's History Sites.
April 2020  Branch Recognized by AAUW FL
March 6, 2020
AAUW Flagler Kicks Off Library's Flagler Reads Together Program  with "Women Won the Vote:  How Did that Happen?" Skit
Branch members participated in the many wonderful events scheduled to complement this year's book – Why They Marched by Susan Ware.  This title calls attention to the 100th Anniversary of Women Winning the Right to Vote!
Equal Pay Day Proclamation – March 3, 2020
Flagler Live Palm Coast Council Proclamation
Votes for Women March and Rally – March 1, 2020
AAUW Flagler members participated in the march in St. Augustine which started at the Corazon Cinema on Granada St. and ended with a rally at the Ximenez-Fatio House Museum on Aviles St.  Speakers included representatives from the Colonial Dames of America, the Daughters of the American Revolution, the proprietors of the Ximenez-Fatio House and the Jacksonville League of Women Voters.
AAUW Flagler Partners with Flagler County Library         February 17, 2020
 AAUW Flagler joined with Friends of the Library and Holly Albanese, Director of the FC Public                   Library, to receive a proclamation from the Board of County Commission for                                                                                   Flagler Reads Together 2020.
AAUW Flagler Performs Suffrage Skit for Flagler County Historical Society February 15, 2020 

General Meeting –
February 8, 2020
Black History Month was commemorated with a discerning and stimulating discussion about "Local Campaigns, National Relevance:  The Florida Civil Rights Movement", led by Dr. Michael Butler, Kenan Distinguished Professor of History, Flagler College.
Author of Victory After the Fall:  The Memories of Civil Rights Activists H. K. Matthews and Beyond Integration:  The Black Freedom Struggle in Escambia County, Florida, 1960-1980, along with a multitude of articles for academic and historical journals, Dr. Butler brings 20th Century Southern History to life in an engaging and informative manner.
2020 NCCWSL Candidate Announced
Fonda "Lisa" Howell is a native Floridian. She is married, a mother to three children and a grandmother of six. Her determination and tenacity to persevere with her educational goals will culminate in May as she receives her Associate Degree in Psychology. She is a two-year past-president of the Psychology Club at DSC. Her immediate plans are to volunteer at Stewart Marchman this summer. She has been a Flagler and Volusia County volunteer since 2004. She has received the Gold Seal Specialization in Psychology and is a certified recovery peer specialist. Her scholastic aptitude has garnered notice on both the President's and Dean's list. Her awards include the Daytona State College Outstanding Student and Hall of Fame. She is looking forward to representing AAUW Flagler at this year's NCCWSL. 
2020 STEM Scholar Announced – January 25, 2020
The Daytona Beach, Flagler, and New Smyrna branches of American Association of University Women (AAUW), through their partnership with Daytona State College, awarded Ms. Florence Small their 2020 S.T.E.M. Scholarship. Since 2014, these branches have worked together to offer women attending Daytona State College a $750.00 scholarship so they may pursue Science Technology Engineering and Mathematical (S.T.E.M.) related educational and career opportunities. This year's recipient exemplifies the pursuit of a S.T.E.M. career while setting an example for the next generation. 
Florence Small is a physical therapist assistant who has worked many years to help others regain their independence. To regain her own independence, she chose S.T.E.M. as her path toward greater self-determination through continued education and a career in electrical engineering. Ms. Small currently attends the Advanced Technology Campus on the main campus of Daytona State College. Her immediate goal is to complete her Bachelor of Science in Electrical Engineering Technology and graduate this spring.
Lobby Days   January 21 – 22, 2020
AAUW Flagler Public Policy Chair Gail Palmer and Co-President Theresa Owen participated in Lobby Days at the Florida State Capitol this year.  They were among 32 AAUW members representing 13 Florida branches who traveled to Tallahassee to lobby in support of AAUW Public Policy Priorities – Pay Equity and the Florida Family Leave Act, Equal Rights Amendment and the Prevention of Human Trafficking.
Just for Fun – January 18, 2020
Members visited the Museum of Arts and Sciences in Daytona Beach for Florida's History Con.  The highlight was a presentation about Florida's Female Pioneers by Dr. Peggy Macdonald, Adjunct Professor of History at Stetson University. She spoke about the women who helped to shape the Sunshine State – Dr. Ester Hill Hawkes, Harriet Beecher Stowe, Dr. Mary McLeod Bethune, Betty Mae Tiger Jumper, May Mann Jennings and Florida's Three Marjorie(y)s – Marjorie Kinnan Rawlings, Marjorie Harris Carr and Marjory Stoneman Douglas.
General Meeting – January  11, 2020
Mary Gatta, Ph.D. delivered an insightful presentation on the causes and effects of poverty on women in Florida.  Dr. Gatta, an Associate Professor of Sociology at City University of New York, earned her Ph.D and M.A. in Sociology from Rutgers University, along with a B.A. in Social Science from Providence College.